Thank you all for taking part in this event. I really enjoyed hosting it as much as you did baking these yummy goodies. Having received about 55 entries, I decided to post the round up in parts based on the level of difficulty. So let's begin with level 1-Super easy recipes! For more delicious cakes and cookies, visit contributors' blogs!
Crunchy Cornmeal Cookies
priyaeasyntastyrecipes
1/2cup Butter
1+1/2cup All purpose flour
1+1/2cup Yellow cornmeal
1cup Powdered sugar
1tbsp Vanilla extract
1/2tsp Baking powder
Preheat the oven to 350F, line a baking sheet over a baking tray, keep aside..In a large bowl, beat together the butter and the powdered sugar until they turns creamy, meanwhile mix the flour,baking powder and cornmeal together and keep aside..gradually add the flours,vanilla extract to the butter-sugar mixture and knead as soft dough, cover the dough with a lid and arrange in fridge for an hour...Make a small balls from the dough and arrange over the baking sheet with enough space..bake for 15-20minutes until they turns golden brown.
In my passionate world.....:)
Marie Biscuit - 5 [I used Arrowroot which is quite similar to marie]
Cocoa powder - 2 tbsp
Butter - 1 tbsp
Milk - to knead the dough
Grated Coconut - 2 tbsp
Sugar - as per taste level
1.Powder the Marie biscuits, Add cocoa powder, milk and knead it to a smooth dough like chapathi dough. Keep aside.
2.Mix coconut , butter and sugar in a seperate bowl, the mixture should be sticky. Roll the coco dough to form small chapathis.
3.Now spread the coconut mixture over the chapathis and gently roll them to form cylinders and keep aside.
4.Refrigerate the rolls for about 30mins; Remove and cut them width wise . Serve it immediately as the rolls butter part tend to melt down.
Acchappam
kitchenswathi
Rice flour: 1 cup
All purpose flour: 1 tablespoon
Coconut milk: 1 ¼ cup
Water: ¼ cup
Salt: ¼ teaspoon
Egg: Half of one egg
Baking powder: ¼ tsp
Sugar: ¼ cup
Black Sesame seeds: 1 tablespoon
Oil for frying
Beat egg slightly in a small bowl
In bowl add rice flour, salt, baking powder, sugar, black sesame seeds, slightly beaten egg and coconut milk and water, mix everything until incorporated well. Batter should be similar to pan cake or dosa. Keep aside.
Heat oil in wok and put mold also in oil while heating. When oil is smoking hot, dip acchappam mold in the batter and again put in oil with batter. Acchapam begin to leave from mold as it starts cooking. If it not dot detach by itself from the mold, use a skewer to help to detach, and continue to cook them until it become crisp and slightly brown in color. Remove them using a skewer and drain extra oil in paper towel. When it completely cooled, store it in an air tight container.
MW Honey Lemon Pistachio Cookies
Appyayan
Honey : 1/3 cup
Fine Sugar : 1/2 cup
Butter/margarine : 1/4 cup (room temperature)
Water : 2 tblsp.
APF/all purpose flour : 2and 1/2 cup
Egg : 1 (beaten)Baking powder : 1 tsp.
Pistachio/almonds : 1/2 cup (chopped)
Lemon peel : 1/4 cup
Lemon extract: 1 tsp
* In a medium sized saucepan, combine honey, sugar, butter/margarine and water. Stirring constantly, cook over low heat until butter melts and sugar dissolves. Cool to room temperature.
* In a large bowl, blend flour, baking powder, pistachios and lemon peel.
* Stir beaten egg and lemon extract into cool honey mixture. Stir honey mixture into four mixture little by little and mix. Knead to make a soft pliable dough, not too hard. Cover with a plastic wrap and refrigerate the dough for 1 hour.
*Take out and divide the dough into 5-6 big balls. Take each ball and spread out to 1/4 inch thickness. Cut into your desired shapes with cookie cutter.
* Take a microwave safe container/plate, grease it a little or place them on a waxed paper on MW glass tray.
* Microwave on medium high for 4 minutes. (My MW power is 1250 watt-time depends on the power level of your MW)
* The cookies should be just firm when done. It will be crunchy when cooled down.
Coconut Oatmeal Cookies
Savithri's Spot
1 cup flour
1/2 cup sweetened coconut
1/2 oats (quick cook)
1/8 tsp salt
1/2 tsp baking soda
3/4 cup butter
1/4 brown sugar
2 tbsp honey
Set oven to 350 degrees.
Combine the flour, coconut, oats and salt and baking soda together in a bowl.
Melt the butter in a pot on the stove and add the brown sugar and honey to it. Let it combine and then cool for 2 minutes before adding it to the dry ingredients.
I found the mixture a little dry when I made it so I added some water to it to help it combine better. Two to three tablespoons did the trick.
Roll out round balls (walnut size) and flatten on baking sheet and put in the oven for 11-13 minutes or until brown.
Eggless Almond-vanilla cookies
simply.food
8 oz refined flour (maida)
4 oz softened butter
2 oz ground almonds
1 level teaspoon bicarbonate of soda
½ teaspoon baking soda
1 teaspoon vanilla essence
3 tablespoons milk slightly warmed
3 oz golden brown sugar
1 tablespoon flour (for rolling and dusting.)
1. Cream together the softened butter and sugar till light and fluffy.
2. Add the vanilla essence and warmed milk. Mix thoroughly.
3. To the flour add the bicarbonate of soda and baking powder and sieve together.
4. Add the ground almonds to the sieved flour and mix together.
5. Gently fold in the flour and almond mixture to the creamed butter and sugar mixture.
6. Mix together to make a soft dough.
7. Wrap the dough in cling film and put in the fridge for 30 mins.
8. Heat the oven to 180 degrees centigrade.
9. After 30 minutes remove dough from fridge and divide into 4 parts.
10. Roll out each part onto a floured surface and cut out desired shaped cookies.
11. Transfer the cookies to a greased baking tray and cook in the oven for 7-8 minutes till lightly brown.
12. Remove from oven and cool on a cooling rack.
13. Repeat for remainder of dough.
Store cookies in an air tight jar or container.
Shortbread Cookies
My Culinary world
2butter sticks(1cup) at room temperature
1 cup all-purpose flour
1/2 cup icing sugar
1/2 cup cornstarch
1/2tsp.vanilla extract
Sift four, cornstarch, sugar together and keep it aside. Cream butter, vanilla until light and fluffy, then add the sifted dry ingredients to butter in few batches; blend smooth with mixer until they are mixed well. Refrigerate dough 15 minutes. Preheat oven to 300F. Make 1'' balls, place then on ungreased cookie sheet; flatten lightly with fork. Chill the cookies for 5-10min., then bake for about 20-25min., or until slightly brown.
Chips Ahoy Style Cookies
sankeerthanam
4 cups all purpose flour
1 tsp baking soda
1 tsp salt
1 cup light brown sugar
1cup granulated sugar
1 1/2 cup veg shortening
1 1/2 tsp vanilla extract
1 large egg white
2 tbs warm water
12 ounces semi sweet chocolate chips
Preheat oven to 325 degree F. Mix the flour and baking soda in
bowl and keep aside. With an electric mixer beat the two sugars and
shortening until creamy. To this add vanilla, salt and egg white. Add
the flour half cup at a time, adding a tbs of water, as necessary to mix
the flour. Mix in chocolate chips, roll into 2 inch balls and press down
with the palm of the hand to make flat. Bake 12 to 15 minutes or until
golden brown.
Vegan Chocolate Banana Cake
Madhuram's Eggless Cooking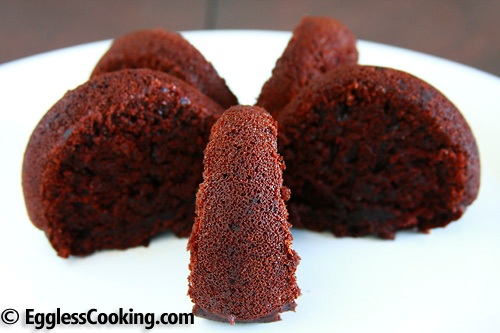 Dry Ingredients:
Whole Wheat Pastry Flour 2 cups
Granulated Sugar (See Notes) 1 and 1/3 cup
Cocoa Powder 2/3 cup
Baking Soda, 1 and 1/2 teaspoon
Wet Ingredients:
Canola Oil 1/4 cup
Hot Water 1 and 1/2 cups
Vanilla Extract 1 teaspoon
Bananas, mashed or pureed 1 cup
1. Preheat the oven at 350F/180C. Spray a bundt pan with non stick cooking spray.
2. In a large bowl mix together the dry ingredients and keep it aside.
3. I pureed 2 small size bananas with little water to measure 1 cup of puree.
4. To the flour mixture add the canola oil, hot water and vanilla extract; mix well.
5. Now add the pureed bananas and blend thoroughly.
6. The cake batter is quite "water-y". Pour the batter in the prepared pan and bake for approximately from 45-60 minutes or until a toothpick inserted comes out clean. The original recipe mentions 55-60 minutes, but mine was done after 45 minutes itself.
7. At this stage I did see some cracks on the cake. Move the bundt pan to a cooling rack and let it cool for 10-20 minutes. Place a baking sheet on the pan and slowly invert the pan holding the sides of the sheet to remove the cake from the pan. Then carefully transfer the cake to the wiring rack and let it cool completely before you frost. I didn't frost mine.
My Notes:
1. The original recipe used all purpose flour but we did not realize that the cake was made with whole wheat pastry flour. The cake had a wonderful texture; moist but not sticky and not gritty. This can very well be a birthday cake; but I would use butter in that case.
2. You could also increase the quantity of sugar to 1 and 1/2 cups if you are not frosting this chocolate banana cake. You could also sprinkle some chocolate chips instead. Since I wanted to make a vegan cake I did not add any. I prefer mild sweetness so the 1 and 1/3 cup was perfect.
3. The cake was surely moist but I felt that it did not taste rich. The original recipe uses 1/2 cup of melted butter for the fat which I replaced with 1/4 cup canola oil and some mashed bananas. So I think we could use 1/4 cup of melted butter or margarine instead to give that richness. If you want to use entire 1/2 cup batter, you can reduce the quantity of mashed bananas to 3/4th cup.
4. The next time I try this recipe I'm going to use cooked beet puree instead of mashed bananas. I'm pretty sure that its going to be so good.
Spiced Eggless Sponge Cake with Carrots
Lifealicious
1 cup Fine Wheat Flour (maida)
100 grams salted butter, melted
1 tin condensed milk (I held just a bit back)
1/2 cup grated carrot
3/4 tspn baking powder
3/4 tspn cinnamon powder
3-4 cloves crushed
1/2 cup milk
chopped almonds to spread on batter
Pre-heat oven at 180c for about 10 minutes
Grate carrot and keep aside
Melt butter and mix well with 1 tin condensed milk
Add 3/4 teaspoon baking powder and mix again
Add 1 cup flour – little at a time to avoid lumps and milk simultaneously
Mix batter well and add the cinnamon powder and crushed cloves
Mix grated carrots and pour into a greased baking tin, spread chopped almonds on top
Bake for about 30 minutes at 180C depending on your oven.
Viennese Sachertorte
Devi' Blog
350 gms of dark chocolate(I used Hershey's special dark chocolate)
150 gms butter
150 gms icing sugar
few drops of vanilla essence
6 eggs, separated
125 gms all-purpose flour
1/4 teaspoon baking powder
1. Break the chocolate (150 gms) and melt it in a bowl placed over simmering water.
2. Beat the chocolate, butter, icing sugar, vanilla essence, and egg yolks until it combines well.
3. Sift the flour and baking powder and add it to the batter and mix well
4. Beat the egg whites and fold into the batter
5. Preheat the oven to 300 F, place the batter in the baking pan and bake for about 50-60 minutes, then take it out and allow to cool.
6. Melt the remaining chocolate placed in a bowl over simmering water and spread over cake and leave it to set for some time. The cake is ready.
Almond Pistachio Cookies with Saffron Icing
Veggi Fare
140 gram - whole wheat flour (atta)
5 tbsp - sunflower oil
7 tbsp - low fat milk
6 tbsp - muscovado sugar / castor sugar
1/4 tsp - vanilla essence
1/4 cup - almonds, blanched and sliced thinly
1/4 cup - pistachio, coarsely powdered
1/4 tsp - bicarbonate of soda
a pinch of salt
Icing - 2 1/2 tbsp castor sugar, a few drops of warm milk and a few strands of saffron. (mix everything together)
1.Preheat the oven to 190 degree C and line a baking tray.
2.Mix together the oil, milk, sugar and vanilla essence in a bowl.
3.In another bowl, mix together the flour, almond slices pistachio, salt and bicaarbonate of soda.
4.Make a well in the centre of the flour mixture and add the liquid mixture and mix lightly with a wooden spoon. Do not overmix.
5.Scoop 1 tsp of the mixture and roll into balls. Place them on the lined baking tray, spaced well apart and flatten slightly.
6.Place the tray in the centre of the oven and bake for about 8-10 minutes or until a skewer inserted in the centre of a cookie, comes out clean.
7.Let the cookies cool in the tray for 5 minutes and then transfer them on a wire rack to cool completely.
8.Drizzle the icing on the cookies. Leave to set.
Mexican Wedding Cookies
Desi Soccer Mom
1 cup butter, room temperature
1/2 cup fine sugar
1 tsp vanilla extract
1 + 3/4 cups APF
1 cup almonds, (1/2cup ground fine and the other half coarse)
1/2 cup chocolate chips, chopped coarse
1/2 cup sweetened flake coconut (optional)
pinch of salt
1/2 tsp nutmeg
1/4 tsp dry ginger powder (optional)
1/2 tsp instant coffee powder (optional)
1/2 cup confectioner's sugar, for dusting
Cream the butter and sugar together till light and fluffy. Add the vanilla extract and beat some more.
In a separate bowl, combine all the dry ingredients thoroughly.
Gradually add to the whipped butter till well incorporated.
Wrap tightly in the shape of a log in a plastic wrap and refrigerate for an hour.
Preheat the oven to 325 degree F (180 degree C).
Cut one inch discs out of the log and roll into balls.
Place an inch apart on a parchment lined cookie sheet and bake for 8 - 10 minutes till the cookies are firm to touch.
Transfer to a wire rack to cool and after a minute dust the confectioner's sugar on top with the help of a small strainer.