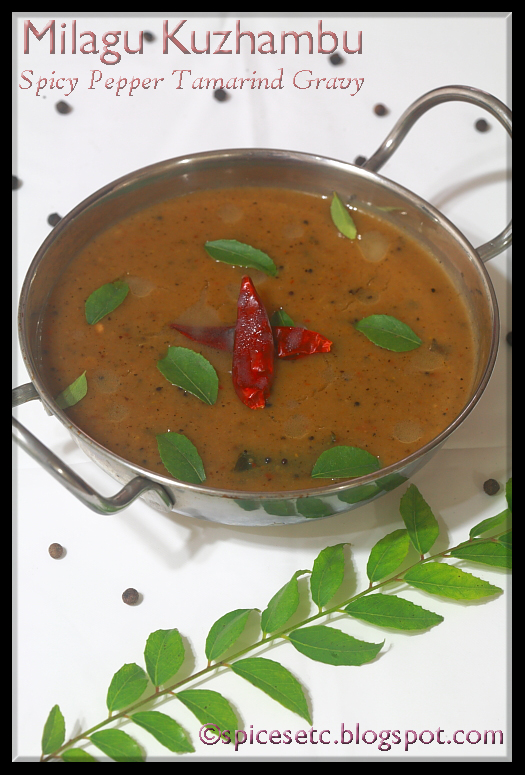 Milagu Kuzhambu-a spicy gravy made by boiling tamarind extract with fresh ground spices is usually had with rice and ghee. When it rains, I can't think of a better main course meal than this one! Here's Milagu Kozhambu recipe coming straight from my Amma's kitchen.
Ingredients:
Tamarind-Medium lime size ball
Sambar powder-1/2 tsp(optional)
Salt
Hing-1/4 tsp
Rice flour paste-Mix 1.5 tsp of rice flour in some water to make a thick paste(optional)
Grated Jaggery-1/2 tsp
To roast in 1/2 tsp oil until golden brown:
Urud Dal-2 tsp
Channa Dal-2 tsp
Red chillis-2
Curry leaves-a few(about 8)
Whole pepper-1 tsp
Seasoning:
Mustard seeds-1 tsp
Curry leaves-a few
Oil-1/2 tsp
Method:
Soak tamarind in 1 cup warm water.
Roast the spices. Cool and grind into a smooth paste adding some water.
Extract 2.5 cups of tamarind water. Discard the tamarind. Add salt, hing, sambar powder, 1 cup water and boil for 12-15 minutes.
Add the ground spice paste and continue boiling for another 10 minutes.
If the mixture is not thick enough, add rice flour paste and stir continuously for a minute.
Add jaggery and stir.
Season with mustard seeds and curry leaves.
Serve hot with rice and ghee.