Without delaying further, let me present the last part of cakes and cookies event. These recipes come under advanced level category. You need some baking experience to try these recipes.
You can check out the round up of Part 1 and Part 2
here
.
I hardly bake. My website, that had only a handful of cake and cookie recipes now has an amazing collection of the same! It's all because of YOU. Thank you so much for taking part in this event.
My other event - Cooking basics is ending March 10th. So rush in your entries!
Vanilla Cake with Pineapple Cream Filling and Whipped Cream Frosting
Ingredients:
A cup Sugar
Two tsp Pure Vanilla Extract
Three Large eggs
a Cup Heavy cream
1 1/2 cup Cake Flour
1 1/2tsp Baking Powder
1/2 tsp Salt
1/4 C Granulated Sugar for dusting at the top(I skipped this one as my cake was well frosted)
For the filling & frosting:
Ingredients:
Whipped cream – 1 1/2 pint
Crushed Pineapple – 4oz
Vanilla Extract – a drop
Powdered Sugar – 5tbsp
Method: Preheat Oven at 350F.Grease a 10 inch cake pan.Beat Vanilla Extract,Egg and Sugar until its pale and thick.Separately beat cream in a bowl until soft peaks form.Turn this onto the egg mixture.Sift Flour,Baking Powder and salt,fold these together in the batter.Scrape the batter to the prepared pan ,sprinkle sugar on top and bake for 40mins or until a toothpick inserted comes out clean.Once done,cool the cake on rack.
For the filling & frosting:
Method: Beat the cream along with the extract until soft peaks form.Just take 1 cup of this mixture and mix in the crushed pineapple,this would be used as filling .To the remaining cream add in the sugar and beat again till you end up with peaks(when u run it thru a spatula the peaks shud stand,thats the ideal consistency).
Assemble the cake: Cut the cake into two halves(using a cake leveler is the best way to do it,if not you can also use a serrated knife).Spread the filling generously on top of one of the halves.Place the second half on top of it and frost the cake using the cream.If you are good at decorating the cake,you may use your pastry bags and nozzles to do the same.Adding food colors to the cream is also an option.
Eggless Orange Flavored Cake
Ingredients:
2 1/2 Cup Flour ( I used 1 1/4th of Maida(All Purpose) and 1 1/4th of Whole Wheat)
3/4 can Sweetend Condensed Milk (I used Fat Free)
1 cup Melted Butter (I used 1/2 cup butter and 1/2 cup oil.)
1 cup Orange Juice
7 tbsp powdered Sugar
1 tsp Vanilla Essence
2 tsp Orange Essence
2 tsp Baking Powder
1 tsp baking soda
1. Preheat the Oven @ 350 F.
2. Line and grease a baking tray/pan. I used the rectangular pan.
3. Sift the flour with baking powder and baking soda into a bowl and keep it aside.
4. In another bowl mix well with a hand whisker melted butter,oil,condensed milk,orange juice,powdered sugar,vanilla essence and orange essense until everything is mixed well.
5. Make a well in the sifted flour mixture and pour the whisked wet ingredients mixture in the center and gently mix the mixture until you get a smooth and uniform mixture without lumps.
6. Pour the mixture into the baking tray and tap it twice to remove the air bubbles formed if any.
7. Place this pan in the center of the oven and bake it for 30-35 mins until the crust is golden brown in color or if the tooth pick comes out clean when inserted into it.
8.After 10 mins remove it from the pan and let it cool on the wire rack.Cut into square wedges and serve.
Store it in the air tight container.
Eggless Gluten free Oat & Almond Ginger Bread Cookies with no refined sugar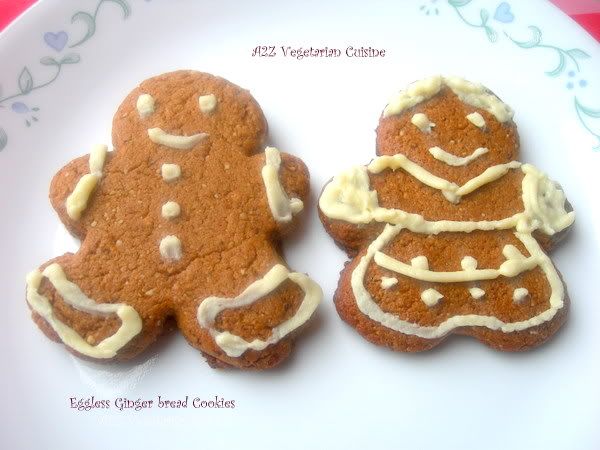 Gluten Free Oats Flour - 1 cup
Almond Flour - 1/2 cup
Clarified butter(ghee) - 1/8 cup
Honey - 1/8 cup
Molasses - 1/8 cup
Baking powder - 1/2 tsp
Grated ginger - 1 tsp
Cinnamon powder - 1 tsp
Salt - 1/4 tsp
Method
1) Combine the Oats flour, Almond flour, salt, cinnamon powder and baking powder.
2) To this add clarified butter, honey, molasses and grated ginger.
3) Roll the dough and take a small ball and flatten it.
4) Using a cookie cutter cut out the desired shapes.
5) Pre heat an oven to 350 degrees Fahrenhiet.
6) Line a cookie tray with parchment paper and bake the cookies for 10-15 minutes till they are fully baked.
7) Once the cookies are well cooled stored in an air tight container.
For the icing
Cream Cheese - 2 Tbsp(Organic without animal rennett)
Butter - 1 Tbsp
Xylitol(powdered) - 2 tsp
1) Beat the cheese and butter, to this add xylitol.
2) Fill a ziploc with the icing and decorate the cookies
Dry Ingredients:
All purpose flour - 2 cups
Baking powder - 1 tsp
Hershey's chocolate syrup - 2.5 tablespoon (I used generously for a rich chocolate taste)
Wet Ingredients:
Eggs : 2 (You can use even3)
Sugar : 1.25 cups (I added a little more since the chocolate syrup might make the cake bitter)
Sweet cream butter unsalted - 3/4 th cup + a little to grease the pan
Sweetened Condensed milk - 3/4 cup (Remember it should be sweetened or else you got to add extra sugar)
Milk - 1/2 cup
Vanilla Extract - 1 tsp
Method:
1) Sift together the flour and baking powder.
2) Beat the egg in a mixing bowl. Then mix the sugar and beat together till frothy. Use an electric mixer for the best result.
3) Add the condensed milk, vanilla extract and beat well. Add the butter, milk,chocolate syrup and mix well.
4) Add the dry ingredients and beat everything together without any lumps.
The cake batter is ready. It should be of pouring consistency. If you find it thick, you can mix a little milk. Fill it in a square/circular pan and bake in a preheated oven at 325 F for an hour.
Check with a toothpick.
The cake pan should be filled up to half its depth since the cake will rise.
Icing:
Ingredients:
Butter - 1 cup
Confectioner's Sugar - 3 cups
Chocolate Syrup - 1 tablespoon
Mix everything using a whisker. If you find it hard, mix a little milk/cream.
Decoration:
Chocolate shavings (grated some hershey's chocolate) and sprinkles
Setting up the cake:
Wait for the cake to cool down.
Carefully cut across the middle of the cake using a cake knife.
Place the bottom layer in a cake tray/plate. Apply the icing using the cake knife just as you butter a bread. Make it a thick layer. Place the other piece of the cake such that the icing is sandwiched.
Now start applying the icing all over the cake. For an even finish, I dipped the knife in a cup of water, now and then. But not too much water.
Now decorate with the chocolate shaving and sprinkles.
2 cups self raising flour
2 eggs
10 tbsp vegetable oil
1/4 tsp baking soda
1 tsp Vanilla essence
1/4 cup+3tbsp fresh regular yogurt
6 oz/ 3/4cup granulated sugar
For streusel
1 cup chopped walnut
3/4 tsp cinnamon powder
1 tbsp APF
1/4 cup brown sugar
1/3 cup chocolate chips
Mix all the ingredients of the streusel and keep aside.
Sift together self raising flour and baking soda and keep aside.
In a bowl take oil and sugar and beat it. Then add eggs one by one and beat it. Add the vanilla essence. Add alternatively self raising flour and yogurt in two to three times. Beat very lightly while adding them.
Grease a 9 inch spring form tin and put half the batter and spread it evenly. Spread half of the streusel over it. Now put the remaining batter on the streusel layer and top it with a final layer of the streusel.
Bake it in preheated oven at 180 C for 45-50 mins. Insert a toothpick in the centre to check whether the cake's done.
Let it cool for 10 mins after baking before running the knife along the sides of the tin to free the sides.
Serve warm with freshly whipped cream.
Tribute to Katherine Hepburn Brownies
1/4 cup all-purpose flour
1/2 teaspoon ground cinnamon (optional)
1/4 teaspoon salt
1/2 cup (8 tablespoons) unsalted butter
1/2 cup unsweetened cocoa powder
2 teaspoons finely ground instant coffee
2 large eggs, preferably at room temperature
1 cup sugar
1 teaspoon pure vanilla extract
1 cup broken or chopped walnuts or pecans
4 ounces / 1/2 cup bittersweet chocolate, coarsely chopped
1. Center a rack in the oven and preheat the oven to 325 degrees F.
2. Butter an 8-inch square baking pan and grease with butter. Add some flour, tap on all sides and tap out the excess.
3. Whisk the flour, cinnamon, if you're using it, and salt together.
4. Put the butter in a medium heavy-bottomed saucepan and place the pan over low heat. When the butter starts to melt, sift the cocoa over it and add the instant coffee. Continue to cook, stirring, until the butter is melted and the cocoa and coffee are blended into it. Remove from the heat and cool for about 3 minutes.
5. Using a whisk or a rubber spatula, beat the eggs into the saucepan one at a time. Next, stir in the sugar and vanilla (don't beat anything too vigorously — you don't want to add air to the batter), followed by the dry ingredients, nuts and chopped chocolate. Scrape the batter into the pan.
6. Bake for 30 minutes, at which point the brownies will still be gooey but the top will have a dry papery crust. Transfer the pan to a rack and let the brownies cool for at least 30 minutes. (You can wait longer, if you'd like.) Turn the brownies out onto a rack, peel away the paper and invert onto a cutting board. Cool completely before cutting into 16 squares, each roughly 2 inches on a side.
Microwave Chocolate-Honey Spiral Cookies
All purpose flour: 3 cups
Butter: 100gms, at room temperature
White sugar : ¾ cup
Honey: ½ cup
Egg: 1, beaten well
Almond : A handful, coarsely chopped
Chocolate chips: 90gm
Divide all the ingredients except honey, and chocolate into two equal parts
For the honey dough:
Mix butter, honey and half the sugar and heat it over low flame till the sugar gets dissolved, keep it aside to cool to room temperature
For the chocolate dough:
Mix butter, chocolate chips, and the rest of the sugar and heat it over low flame with constant stirring till the sugar and chocolate dissolves, keep aside until cooled
Pour half the egg into the honey mix and the rest into the chocolate mix, fold well
Pour the two mixes separately into two halves of the flour and make into two firm dough
Refrigerate the two dough after wrapping them with plastic film for an hour or so
Take the two dough and roll them into a half-inch thick circles, now put the chocolate one over the honey mix dough and roll them together
Cut the roll laterally into half-inch thick cookies and place them on a microwave safe plate
Microwave high (800watts for my MW) for 3-4 mins; let them cool inside the microwave oven. Keep in an air tight jar and feast on them whenever you feel like.
Rich Christmas Fruit Cake
Ingredients:
2 cups all purpose flour (300 gms)
1 cup dry fruits (raisins, dates, sultanas, currants, prunes)
1/2 cup mix nuts (cashews, almonds, walnuts)
1/2 cup tuttu frutti
1 tsp baking powder
1/4 tsp cinnamon powder
1/4 tsp nutmeg powder
1/4 tsp clove powder
1/2 cup softened unsalted butter
1 cup light brown sugar
1 tsp vanilla essence
4 eggs
1 cup orange juice
3 tbsp rum (optional)
For Caramel:
1/2 cup sugar
3/4 cup boiling water
Procedure:
Soak the dry fruits, tutti frutti along with with cloves, cinnamon and nutmeg powder in orange juice and rum anywhere between 24 hours to 1 year. I soaked dry fruits for 2 days. Do stir the jar once a day.
On the day of making the cake, start by first making the caramel. In a heavy bottom pan, heat the sugar in a slow flame. The sugar will began to melt, stir this mixture slowly until all the sugar is melted and caramel is formed. When all the sugar crystals have been melted, add in boiling water and stir in to form smooth caramel syrup. Be very careful when adding boiling water as it will splutter a lot. Cool this mixture completely before using in the cake.
Sift the flour along with baking powder and keep it aside.
In a mixing bowl, beat together brown sugar and butter until light and fluffly. Slowly add in one egg at a time and beat well. Add in vanilla essence, dry fruits, flour and caramel mixture turn by turn. Mixing properly each time.
Grease & line 2 loaf tins and bake the cake at 180 degrees C for 40 to 45 mins. Do a tooth pick test to confirm.
Try storing the cake a week in the fridge wrapped in foil or cling film. This cake ages beautifully.
Chocolate~vanilla cheesecake
simplyfood (url not provided)
Ingredients:
For the base:
250g digestive biscuits
100g butter melted
1 teaspoon vanilla essence
250g cream cheese (mascarpone)
100g icing sugar
100 ml pot double cream
30g cocoa powder
For the decoration·
1 teaspoon cocoa powder
Method:
Make the base:
1. Butter and line 4 individual loose-bottomed tin with baking parchment.
2. Put the biscuits in a plastic food bag and crush to crumbs using a rolling pin.
3. Transfer the crumbs to a bowl, then pour over the melted butter.
4. Mix thoroughly until the crumbs are completely coated. Transfer them into the prepared tin and press firmly down into the base to create an even layer.
5. Chill in the fridge for 1 hour to set firmly.
Make the filling:
6. In a bowl add the cream cheese, the cream, the vanilla essence and the icing sugar .
7. Whisk thoroughly till its thick, smooth and creamy . Remove 1/3 of the mixture in a separate bowl. This is the vanilla part of the filling. Keep aside in fridge until ready to use.
8. Sieve the cocoa powder, to remove lumps and add to the 2/3 cream cheese mixture .Mix till cocoa is blended in, this is the chocolate part of the filling.
9. Now spoon the chocolate cream cheese mixture onto the chilled biscuit base, working from the edges inwards and making sure that there are no air bubbles.
10. Smooth the top of the cheesecake down with the back of a dessert spoon or spatula.
11. Leave to set in the fridge for 1 hour.
12. After 1 hour spread the vanilla cream cheese mixture on top of the chocolate cream cheese mixture.(This layer will be thinner than the chocolate layer)
13. Chill over night.
To serve:
14.Remove cheesecake from fridge and bring the cheesecake to room temperature, about 30 minutes before serving.
15. To un-mould, place the base on top of a can, and then gradually pull the sides of the tin down. Slip the cake onto a serving plate, removing the lining paper and base.
16. Dust the top of the cheese cake with cocoa powder. (You can form a pattern on the top of the cheesecake by covering with a paper doily before dusting with cocoa.
Serve with Vanilla ice cream or just cream.
This recipe serves 8 people.
Ingredients:
1 cup AP flour.
1 apple peeled and grated.
¼ cup butter.
¾ cup granulated sugar.
¼ cup apple sauce.
½ cup whole milk.
1tsp baking powder.
½ tsp baking soda.
½ tsp nutmeg powder.
½ tsp cinnamon powder.
½ tsp vanilla essence.
For decorating:
1 apple very thinly sliced
Apricot glaze.
Process:
Preheat the oven at 180 C and grease and dust a baking tin with flour ready to use for baking the cake. Mix the AP flour, baking powder, baking soda, nutmeg powder and cinnamon powder. Sieve it twice so that everything is evenly mixed. Set aside.
Now take butter at room temperature and add sugar in it. Beat it for 5 minutes. Then add apple sauce. Stir for minutes and add milk and vanilla essence. Stir for 2-3 minutes till it is a uniform mixture. Now add this mixture slowly into the dry mixture and stir so that everything is folded into a uniform mixture. Pour this batter into the baking tin kept ready and bake at 180 C for 40-45 mins till golden brown. Using a skewer prick the cake at the centre, if it comes out clean, the cake is done.
Remove the cake from the oven and let it cool for 5 minutes. Take the cake out on a plate by turning the container upside down. Decorate the cake with thinly cut apple slices.
For the apricot glaze, place a 2 tbsp of apricot jam in a small pan, along with a squeeze of lemon juice. Heat the jam, stirring until it melts and is runny. Pour the melted jam into a wire sieve set over a bowl. Stir the jam to help it get through. Return the strained jam from bowl to pan. Keep the glaze warm and brush it generously over the freshly sliced apple until fully coated.
Slice and serve.
All purpose flour (maida) – 1 cup
Powdered sugar – ½ cup
Butter – ¼ cup
Baking soda – 1 tbsp
Dates – 5 - 10 pieces (cut into small pieces)
Mixed Tutty fruity – ½ cup
Milk – ½ cup
Salt – 1 pinch
For Greasing:
Butter – 1 tbsp
Maida flour – 1 tbsp
Preparation of Mixture:
1.
Sieve maida, salt, baking soda and then keep it aside.
2.
Take a bowl, add powdered sugar and butter and beat well for 5 mins with a blender or with a spatula by hand for 7-10 mins.
3.
After it is mixed well, add the sieved flour mixture and mix it to form dough.
4.
Once it is mixed, add milk little by little to the mixture and mix it till it becomes like a thick paste.
Beat the mixture well for 2 mins.
5.
Now add the dates pieces and tutty fruity to it and beat for another 2 mins.
Preparation of cake in pressure cooker:
1.
Take aluminum or a stainless steel vessel. Grease it with butter and just spread the flour over it.
2.
Now pour water in a pressure cooker and heat it in high flame for 2 mins.
3.
Pour the mixture in to the greased vessel. Do not place the greased vessel directly into the cooker. Take a small bowl with little water in it and place it in the cooker. Now keep the greased vessel above the small bowl and close the pressure cooker without the whistle. Do not close the greased vessel.
4.
Now reduce the flame to low and leave it to cook for 35 – 40 mins.
5.
After 40 mins remove from flame and allow it to cool for few mins, then just invert the vessel so that the cake come out in a proper shape. Decorate it as you wish.
Additional Info:
After 30 mins open the pressure cooker lid and check whether the cake is cooked. You can do that by inserting a thin stick to it. When you take out, there shouldn't be any sticky paste.
Make sure it is not overcooked. 35 mins is perfect. If you feel it needs some more time keep it for 40 mins.
If you have a hot plate, after you heat the cooker in full flame reduce the flame to 4 or 3 and leave the cake to cook for 30 – 35 mins.
Image not available
Mixed Dry fruits: 1 cup ( date-dark raisin-golden raisin-apricot-dry cherry) or can use any dry fruits (tutty frutty) or even dried welch' dry fruits (US product)
Nuts: 1/2 cup of mix of cashew, almonds and pecans (add 1/2 tsp AP flour and coat well the nuts prevent not settling down in cake pan)
All purpose flour (maida): 1 cup
Sugar: 3/4 cup
Egg: 3 num
Butter: 1 stick (1/4 lb 0r approx 113 gm) (kept at room temperature)
To make the caramel:
Sugar: 1/4 cup
Water: 1 tbsp
Warm water: 1/4 cup
How to make caramel?
Add sugar and 1 tbsp water keep in stove at low medium heat. When the sugar starts to caramelize , stir slowly with wooden spoon. The sugar will start to change color from light brown to dark. In between , keep in microwave the water for 1 min and warm it. When the sugar starts to turn brown , pour slowly the warm water keep ur face away! (caution: it splitter so be cautious!). Let it cool completly the caramel and add the vanilla essence.
To bake the cake
Preheat the oven at 35o degree, grease a small loaf pan and place a wax paper at the bottom.
Beat the butter, sugar until creamy add one by one the egg and beat until creamy, add the cooled caramel beat again.
Sift AP flour, baking soda, baking powder, salt and spice powder together.
Sprinkle the flour slowly in butter, sugar, egg caramel mixture and fold it.
Add the dry fruits only (if you ve little juice left keep it away or add in the cake mixture), nuts and orange zest. fold again.
Pour in grease pan and cook in middle of the rack for 40 to 50 minutes. If not cooked increase 10 min each time.
My cake was ready under 45 min! Depend of your oven!
Note: The alcohol is evaporated while baking so we can safely feed the kid. Rum is the key flavor and the extract do give the flavor of the original plum cake we get from the bakery. You can always skip the rum and soak in fruit juice but the flavor is different!
Refined flour – 100 gms
Baking powder – 1 teaspoon
Butter (at room temperature) – 75 gms
Castor sugar – 100 gms
Vanilla Essence – 1 teaspoon
Eggs (at room temperature and separated) – 2
Unsweetened cocoa powder – 2 tablespoons
Milk- 3 tablespoons
Procedure –
Pre heat oven to 180 degrees centigrade. Base line a 7 inch x 6 inch x 2 inch tin with a parchment paper.
Mix the butter and sugar. Beat it until the mixture is creamy and the sugar is completely dissolved.
In another bowl beat the egg whites till light and creamy. Add vanilla essence to the egg yolk and whisk.
Add the whisked egg yolk mixture to the butter and sugar mixture while continuously beating. Now add the beaten egg white. Whisk well for a minute.
Sift the flour and baking powder and fold it into the egg mixture gently. Add the milk and mix well.
Now transfer half the mixture in the prepared cake tin.
Quickly add the cocoa powder to the remaining cake mixture and mix well lightly.
Place the cocoa mixture, too, in the cake tin.
Using a fork or a skewer lightly mix the 2 colored mixture in the tin. Do not over do or you would not get the desired swirly look. ( I guess I over did it )
Place it in the oven in the centre rack position and bake on 180 degrees centigrade for 25-30 minutes or until a skewer inserted comes out clean.
Once done, let it cool on a wire rack completely before seving.
Tips-
Use exact measurements to make a cake.
Transfer the prepared batter immediately to the baking tin as once the baking powder is added, it starts its action. So always keep the baking tins ready according to the requirements.
Eggless Whole Wheat Fruit & Nut Cake
White whole wheat flour - 1 cup
Mixed spices powder(Cardamom, Nutmeg, cinnamon) - 1 teaspoon
Clarified butter(ghee) - 1/2 cup
Candied fruit - 1/3 cup
Chopped nuts - 1/4 cup
Brown sugar - 1/4 cup
Water - 3/4 cup (**)
Baking soda - 1/2 tsp
Baking powder - 1 tsp
Salt - pinch
Flaked almonds handful
Put the mixed spices, clarified butter, dried mixed fruit, sugar and water into a saucepan.
Place them over a medium heat and stir the mixture until the sugar has dissolved.
Bring to the boil and then simmer for 3 minutes.
Remove from heat and cool until lukewarm.
Preheat oven to 350 degrees Fahrenheit.
Add the baking soda, baking powder, pinch of salt.
Put the flour into a large mixing bowl and make a well in the centre of it.
Pour the lukewarm mixture into this.
Mix well and pour into a greased cake tin.
Smooth the top of the mixture and sprinkle with a few flaked almonds.
Bake on the middle shelf of the oven for 1 hour 15 minutes at till a knife inserted in
the center comes out clean.
Turn onto a wire rack to cool. Cool them overnight and slice the next day.
Vanilla Chocolate Swirl Cake
270 g (2 C) flour
2 tsp baking powder (1 envelope)
1 tsp baking soda
150 g (2/3 C) butter, at room temperature
300 g (1 1/4 C) white sugar
4 eggs
1 1/2 C (3 x 125 ml) plain yogurt
1 1/2 tsp vanilla extract
2 Tbsp unsweetened cocoa powder
60 g (1/3 C) chocolate chips
60 g (1/3 C) shelled hazelnuts chopped
- Preheat your oven to 180C (360F). Grease a 25cm (10-inch) cake pan, preferably non-stick.
- Prepare the chocolate batter. In a food processor, mix together half of the sugar and half of the butter and beat until fluffy. Add in two of the eggs, one at a time mixing between each. Add in half of the yogurts and all the vanilla extract, mix again.
- In a medium bowl, combine half of the flour with half of the baking powder, half of the baking soda and all the cocoa powder.
- Add the flour mixture into the food processor and mix again until just combined. Add half the chocolate chips and mix well.
- Pour the batter into the cake pan, and reserve in the refrigerator.
- Rinse the bowl of the food processor and prepare the vanilla batter by mixing together the rest of the sugar and butter. Add in the last two eggs, one at a time mixing in between. Add the rest of the yogurt and mix again.
- In a medium bowl, combine remainder of the flour with the remainder of the baking powder and the baking soda. Add this to the sugar mixture and mix until just combined.
- Take the cake pan out of the fridge and sprinkle the rest of the chocolate chips and the chopped hazelnuts on top of the chocolate batter.
- Gently pour the vanilla batter on top and smooth out the surface with a spatula.
- Put into the over to bake for about an hour or until a cake tester comes out clean. Let rest for five minutes on the counter in pan. Then turn it out onto a rack to cool completely.
Peach Upside-down with a French-Yoghurt cake base
Topping
Packed Brown sugar- 1/2 cup (dark or light..i used dark)
Butter- 1/4 cup/ 4 tbsp
Peach slices- 1 can (about 400gms)
Base: French-Yoghurt cake
All purpose flour- 1 cup
Sugar- 1 cup
Eggs- 3
Baking powder- 2 tsp
Flavourless Oil- 1/2 cup
Vanilla extract- 1/4 tsp
Plain yoghurt- 1/2 cup
Salt- a pinch
Topping:
Place a saucepan over medium heat and melt the butter and sugar. Mix well and keep stirring till the mixture starts bubbling and caramelising a bit. Remove from heat and keep aside to cool a bit.
Butter a 9 inch round cake pan and once the mixture has cooled down a bit, pour into the pan and evenly arrange the peach slices.
Batter:
Centre a rack in the oven and preheat to 175C.
Whisk together the flour, baking powder and salt.
In a large mixing bowl, using an electric beater, whisk together the sugar, eggs, yoghurt and vanilla extract till they have blended well.
Still whisking, add the dry ingredients bit by bit, till they are all mixed well.
Pour the oil into the mixture and using a large rubber spatula fold in the oil. Do not mix vigorously.
Pour this batter on top of the peach slices and even it out.
Bake for about 50 to 55 minutes or until a skewer comes out clean.
Take it out of the oven and cool on a rack for about 10 minutes.
Run a knife around the edge of the pan and invert onto a serving place carefully.
Serve with cream.
Christmas Fruit Cake
Dil Se..
Flour - 2 cups
Baking soda - 1 teaspoon
Baking powder - 1 teaspoon
Brown sugar - 1 3/4 cups
Nuts - 3/4 cup chopped (I used almonds, pecans and walnuts)
Dried fruits chopped and soaked in orange juice - 1 cup (I used dried apricots, dates and raisins)
Orange juice - 1 1/2 cups
Cloves - 3
Oil - 3/4 cup
Eggs - 3 large
Boiling water - 1 cup
Soak the chopped dried fruits in the orange juice. I soaked them for a day it could be stored in the refrigerator if storing for about a week.Now starting with the cake preparation,In a heavy bottomed vessel take the brown sugar and put it on medium heat.After about six to seven minutes, it starts to melt and caramelize. Take care it does not burn. This should be done in low or medium heat. All the sugar melts and look like this.
Pour the boiling water slowly into this caramelized mixture. Take care because it splutters. Simmer for about 3 minutes until all the caramel dissolves and forms a thick liquid. Allow it to cool completely.
Sift the flour, baking powder and baking soda together. Add the oil, cooled caramel and eggs and beat together with an electric mixer or using a whisk. Slowly add the flour one cup at a time and beat until combined. Stir in the soaked fruits and nuts and stir until well combined to form the cake batter.
Preheat oven to 190C/375 F.
Pour the batter into a greased baking pan. I used a round cake pan and a loaf pan.
Bake for about 50 minutes until the cake springs back from the pan.
Cool completely on a wire rack. Slice only after it cools completely.
Plum Cake
Kitchenswathi
What you need
Soaking
Assorted dry fruits (strawberry, papaya, kiwi and pineapple) (finely chopped): 1 cup
Raisins : 1/3 cup
Cranberries: 1/3 cup
Dates : 1/3 cup (chopped finely)
Dry apricot: 1/5 cup (4 no chopped finely)
Brandy /Rum : 1 ½ cup ( I used Brandy, Christian brothers )
Nuts smeared with almond essence
Almond (Chopped finely): ¼ cup
Cashew (Chopped finely): ¼ cup
Almond essence: 1/8 tsp
Batter
All purpose flour : 1 ½ cup
Butter : 10 Tablespoon (1 ¼ sticks)
Granulated sugar: 1 ¼ cup
Salt : ¼ teaspoon
Egg yolk: 3 at room temperature
Egg whites: 3 at room temperature
Baking powder: 1 teaspoon
Orange juice: 1/3 cup
Vanilla extract: 1teaspoon
Caramel syrup
Granulated sugar: ¼ cup
Water: 1 tablespoon +1/2 cup
Lemon juice: ¼ teaspoon
Spice powder
Caraway Seeds: 1 teaspoon (powdered)
Powdered nutmeg: ¼ teaspoon
Powdered Cinnamon: ½ teaspoon
Powdered cloves: ¼ teaspoon
Powdered cardamom: ½ teaspoon
Powdered ginger: ¼ teaspoon
How I made:
Chop all the dry fruits including nuts into small pieces and soak them in brandy for at least one day advance. I soaked for them form 5 days. Smear the nuts with almond essence and keep it aside
To make caramel syrup take ¼ cup sugar and 1 tablespoon water in heavy bottom pan and heat it until sugar melts and change cherry brown color. Add few drops of lemon juice to prevent crystallization of sugar. It took about 7 minutes for me. Transfer the pan with sugar to kitchen sink and immediately add ½ cup of cold water (Be careful with this step, otherwise serious burn can results) for easy cleaning. Keep aside and add only cold caramel syrup to batter.
Preheat the oven to 350 degrees F. Butter the bottom of a 9 inch cake pan and 5-inch loaf dish. Line the bottom with parchment paper, then butter and flour the pan.
Sift together flour, salt, baking powder and spice powder in a bowl and keep aside.
Separate egg whites and yolk. In a bowl beat egg whites using a hand mixer until you get white peaks and keep aside.
In an electric mixer, beat the butter and sugar together on medium speed, until everything mix well and incorporated. Add egg yolk one at a time to sugar butter mixture and mix well. Then add vanilla extract and caramel syrup (1/2 cup) mix everything and combined well. Add slowly flour-salt-baking-spice powder mix in small quantities and incorporate everything. Scrape down the sides of bowl once at twice. Stop the mixer and fold egg whites gently until no white streaks visible.
Finally drain the soaked fruits and add nuts and 1 tablespoon of all purpose flour and mix well. And fold in fruits and nuts into the batter.
Pour the batter into the prepared pans and smoothen the tops with a spatula. Bake for 1 hour or until skewer comes out clean.
Cool the cake in pan for 15 minutes and later invert them and cool completely for 45 minutes. Keep cake one or two days before serving.
1. 4 cups Dry Fruits like Raisins, Dates, Cherries, Fig, Apricots
2. 4 cups All purpose flour (Maida)
3. 2 cups nuts like cashews, walnuts and almonds
4. 4 cups sugar
5. 12 eggs
6. 1/2 teaspoon orange peel
7. 1/2 teaspoon lemon peel
8. 1 cup rum
9. Baking powder - 3 tsp
10. Butter - 1 lb or 4 sticks(approx 450gms)
11. 1 cup sugar (to make caramelized syrup)
12. 1/4 teaspoon cinnamon powder
13. 1/4 teaspoon nutmeg powder
14. 1/4 teaspoon cloves powder
15. 1 teaspoon dry ginger(Sukku) powder
16. 1/2 teaspoon salt
17. 2 teaspoon vanilla extract
# Chop the fruits and add lemon and orange peels. Mix rum and combine everything well. Keep at room temperature covered for at least a night. This can be done well in advance from a year to 3 months, the more the time the dry fruits are soaked in rum the more tastier it is. Mix in about 4 tablespoon of flour on the day of making the cake (this prevents the fruits to sink to the bottom while baking).
# Chop the nuts into small pieces and set aside.
# Sift flour, baking powder,salt and spice powders.
# To make the caramel syrup, in a saucepan and add 4 tablespoons of water and 1cup sugar. Bring this to a boil on high heat.
# In few minutes, a nice dark brown color forms, immediately, remove the pan from the stove and very carefully and immediately add 1 cup of water to the caramel ( when water is added, it tends to splash so wear gloves or keep in a sink ). Keep this aside.
# Preheat the oven to 350 ° F.
# In a mixing bowl, on slow speed beat butter first and then add 4 cups of sugar and beat until it is creamy.
# Add eggs and beat well.
# Pour in the caramel syrup and vanilla extract and mix everything together.
# Add the flour-baking powder mix and fold this in with a wooden or plastic spatula.
# When they are well mixed, add the fruits, nuts and mix again.
# Pour this into a loaf pans.
# Bake for 1 hour at 350 ° F. Insert a toothpick in the middle of the pan. If the toothpick comes out clean, the cake is done. If not, bake for another 15 minutes and check again.Remove the cake from the oven and allow it to cool.
# Pierce the cake with toothpick, and pour Brandy (about 1/4 cup for each loaf).
# Remove the cake from the pan when completely cooled.
Refined Flour / Maida – 100 gms
Baking Powder – 1 teaspoon
Sugar – 100 gms
Butter (melted) – 50 gms
Eggs (separated) – 2 at room temperature
Pineapple essence – 1 teaspoon
For the icing –
Whipped cream (sweetened) – 1 ½ cups (I used bluebirds powdered whipped cream)
Tined Pineapple – 2-3 rings
Water – ¾ cup
Grounded sugar – 3 tablespoons
Butter (salted) – 3 tablespoons (melted)
Base line an 8 inch diameter cake tin and on sides with butter paper.
Pre heat the oven to 180 degrees Celsius.
Beat the egg white and yolk separately.
Now add the sugar to the yolk and beat. Gradually add the beaten egg white. Beat till the sugar is completely melted and the mixture is nice and creamy.
Add the melted butter and sift in the refined flour and baking powder together in to the mixture.
Add the pineapple essence and fold the mixture gently.
Pour in to the prepared tin and place it in the centre rack position of the oven and bake for 180 degree Celsius for 25 – 30 minutes or till the cake becomes golden brown and a skewer or a tooth pick when inserted comes out clean.
Remove the cake and let it cool completely on the wire rack. Remove the side and base lined paper.
In a bowl mix the water and powdered sugar.
Once the cake is cooled, cut the cake horizontally. You will get 2 round cakes.
Now using a spoon start pouring the sweet water evenly on both the cakes. Add the melted butter evenly on both the cakes.
Cut the pineapple rings in to small pieces.
Take an inverted bowl and place a plate on it. Place one of the cakes on it and spread the whipped cream evenly over it. Place some pineapple pieces over it.
Place the second cake over it and again repeat the above icing procedure.
Again spread the pineapple pieces over and spread the icing on the sides too.
Cover the cake and place in the refrigerator to cool for 2-3 hours before serving.
Tips –
Adding water over the cake keeps it nicely moist. The cake doesn't become dry.
Whipped cream quantity could be changed according to the preferences.
Always use tinned pineapple. Fresh pineapples add a bitter taste to the cake.
How to base line tin – Cut a butter paper in the shape of the base of the cake tin. Place it at the bottom of the greased cake tin. Same goes with the sides. Grease the sides and place the paper along the side length.
And last but not the least always use exact measurements while baking for your cake to become a success.